We will be participating in both the 2010 San Francisco Flower and Garden show as well as the California State Flower and Garden show in Sacramento. These shows are epic and really fun and informative. Come and see our palms showing themselves off.
We will have lots of lovely palms adorning the SF orchid show. Join us for the 58th annual orchid extravaganza February 26-28 2010. We will have a Golden Gate Palms booth there as well.THE ORCHID SHOW
IT'S SPRING AND WE'RE HAVING BABIES!
Humming bird chicks to be exact.
---
March 2008
Exclusive Variegated Agave attenuata!

Gary's new plant Agave attenuata 'Kara's Stripes' is now available, although in limited quantities. The market seems to gobble them up before they reach a reasonable size. Supplies will be limited until production can meet demand, but we hope to eventually carry this plant in larger sizes so that the unique characteristics of the plant can be thoroughly enjoyed immediately upon purchase without further growing necessary. Until then, we will only have smaller sized plants available.
---
2008 SF Flower and Garden Show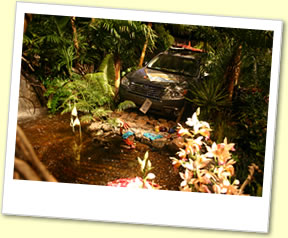 Golden Gate Palms participates in the 2008 SF Flower and Garden Show with a feature garden exhibit designed by Gary called "Jungle Skinny Dip". The garden, partially sponsored by Subaru won a gold medal and was a huge hit with the crowd. Golden Gate Palms' lush foliage, Brookside Garden's amazing waterfall and pond, Golden Gate Orchids' contribution of amazing orchids, Sarah Hayward's colorful bikinis and all of Gary's silly tricks like the custom mixed jungle symphony/human flirtatious giggle soundtrack playing from behind the veil of luxuriant foliage all combined to create a magical setting enjoyed by 80,000 people over 5 days. More photos coming soon.
---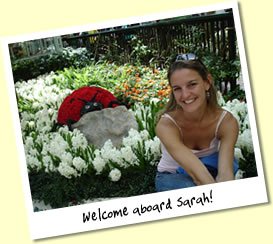 Welcome Aboard Sarah!
Sarah Hayward joins Golden Gate Palms to head the Landscape Design Department. Watch for Sarah who makes frequent appearances on Gary's show "Superscapes."
---
Gary Goes Pro!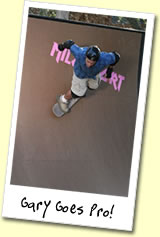 So, if my "Superscapes" production company pays me to skate a half pipe, does that make me a professional skater? It's a stretch, but I'm adding it to my resume. Watch out for the clothing line. And what does this have to do with selling palm trees? Absolutely nothing- but it sure is fun!
-Fabulous photos by Todd Davis
---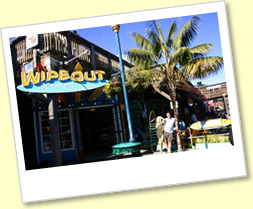 Gary with one of the surfer girl babe's of Pier 39. Actually she's 100% fake and proudly stands guard under a Kentia Palm. Gary installed for Pier 39's newest restaurant, "Wipeout." A gorgeous palm, tasty burgers, cold shakes and some insane surf videos, what more could you ask for? Say hello to "Skooter" and tell him Gary sent you.
---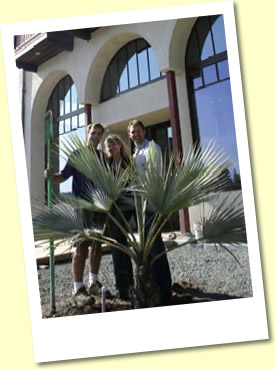 Gary Gragg flashes back to the days of personally drinking suds at the old Moraga Barn Tavern as he plants a Mexican Blue Fan Palm (Brahea armata) at the newly renovated historic building which was given a new life by Canyon Construction who will use it as their new East Bay office. Pictured from left to right are Gary Gragg, Tina Voight designer, and Chris Avant, owner of Canyon Construction. The Mexican Blue Palm was selected because if its iridescent blue color, longevity, and the fact that it complements its sister species Guadelupe Fan Palm (Brahea edulis, outside of frame) which has occupied the site for nearly a century. If you need a new custom house, Chris does a good job as does Tina with interiors. Landscape design by Ron Lutsko.
---
Bringing Home the gold!
Gary wins the Golden Gate Cup, Best in Show, and a Gold Medal award at the 2006 San Francisco Flower & Garden Show. Check out Gary's award winning installation, "Livin' Cheap in Baja". The Oakland Tribune called Gary's garden a "Show Stopper!" [ more news articles] See the exhibit in person as it has been recreated as a permanent installation amongst the Richmond nursery demonstration gardens and now serves as the "Golden Gate Palms Corporate Headquarters"- the ultimate in green construction.
---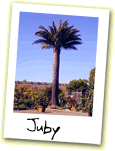 Gary saves another palm's soul. Watch us save this century old Wine Palm.