(did I ever mention that my great, great grandfather was 1/4 Peacock?)

We Deliver!
There is no palm that Golden Gate Palms can't deliver. Whether you need your palms dropped off on the side walk, tree dollied to the far reaches of your backyard, or craned straight from our truck, our deliveries are prompt and professional.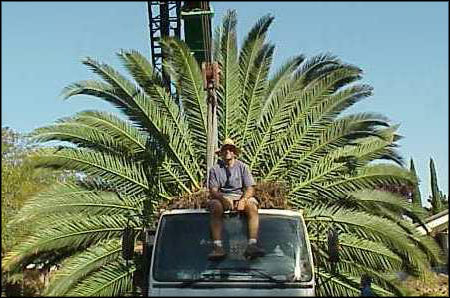 Did I ever mention my great, great grandfather
was 1/4 peacock?
---
Specimen Palm Installation
Trucks, tractors, cranes and shovels- we've got 'em all! Golden Gate Palms is the premier installer of palms in the San Francisco Bay Area. Whether you need a few smaller plants lugged into the far reaches of your backyard and planted, or monster palms craned over a high rise, we'll get the job done right the first time.
---
Palm Trimming and Maintenance
Golden Gate Palms offers several different scheduled maintenance packages for our customers which range from monthly visits to yearly visits for trimming and proper fertilization. Through our maintenance program your palms will get the correct amount and type of nutrition at the correct time of year as well as the proper trim job. Our goal is to make your palms the envy of the neighborhood. Call us for a quote to maintain your personal paradise.
---
Palm Removal/Relocation

Let's face it, palms are beautiful but if planted in the wrong spot (like any tree for that matter), they can become a nuisance. But unlike most other large trees, palms can be reused and transplanted into a place where they will be much appreciated and admired. So if you have a palm you are wanting to remove, take a snap shot of it and email it to info@goldengatepalms.com (or snail mail to: Golden Gate Palms, P.O. Box 1172, Lafayette, CA 94549). If we think we can spare your palm from an untimely death, we will give you a call and arrange for a site visit. The only palm we are generally not interested in is the Mexican Fan Palm unless there are more than 1 and they are no taller than 30'.
---
Special Event Plant Rental
Having the largest selection of potted palms in the immediate Bay Area allows a special opportunity for event planners to green up any special event be it a wedding, concert, graduation ceremony, grand opening, banquet, or Hawaiian luau.
Golden Gate Palms will assist in designing a plant layout which will create the desired effects of screening, backdrop, accent, framing - or even a complete jungle.
We also offer delivery, setup and teardown services. Call us for a price on a lush green portable real live jungle such as our award winning Burmese garden (pictured at right) which we set up at the 2002 San Francisco Flower & Garden Show.