AIRS EVERY WEDNESDAY AT 7AM!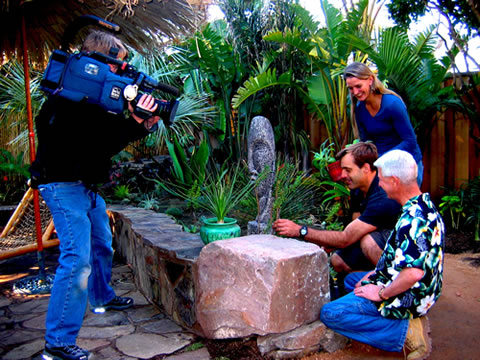 Well it was a long wild ride, but my garden television career finally got off the ground with HGTV's new series "Superscapes." The good news? They didn't cut all of my stupid jokes. The bad news? They never gave me a cape! In the 26 episode series we create some very cool gardens ranging from a Sierra cabin mountain escape to a Cape Cod themed whaler to a Balinese Courtyard. My role in the series is host, designer, builder and of course creative content- sometimes, more creative content than my producers wanted. I was just a little enthused, that's all. The series airs every Friday morning at 9:30 am.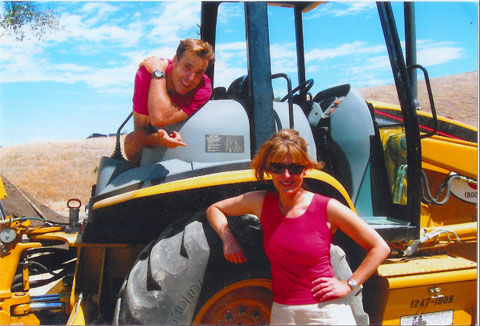 Besides creating some very cool gardens, along the way my hosting adventures included diving off a cliff, skateboarding a massive half pipe, catching big air off a mountain bike jump, and snowboarding down a dry grassy mountainside. We obviously had a ton of fun making this series and met some really wonderful homeowners. Many new friendships have been forged. Thank you all for making the show so great!
Gary Goes Pro!
So, if my "Superscapes" production company pays me to skate a half pipe, does that make me a professional skater? It's a stretch, but I'm adding it to my resume. Watch out for the clothing line. And what does this have to do with selling palm trees? Absolutely nothing- but it sure is fun!
(-Fabulous photos by Todd Davis)
Me sitting on the ramp watching 15 year old Shane Wright's first drop into the ramp, and yes that is a cast from his last botched snowboard aerial. All I can think about is the super boring summer I spent as a 14 year old when I ironically lived just next door to where the Wrights live now. If only that ramp were built 25 years ago. Somebody give me a time machine!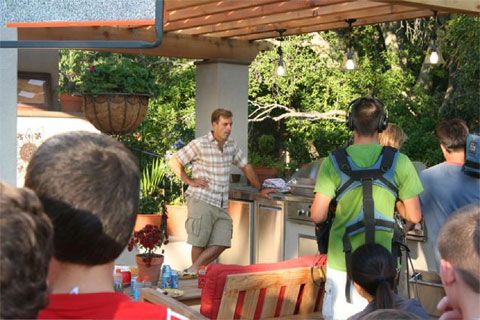 I owe a tremendous debt of gratitude to all the fine folks at Edelman Productions in Marin for making this happen including but certainly not limited to: Steve Edelman for laughing at my on screen jokes and giving me a shot, Avelino Pombo for opening the door, Lauren Williams my series producer for teaching me everything I now know about television and acting, Rudy Gelenter my cameraman for allowing me to point out "really cool" shots (camera operators typically don't like to be told what to shoot by the "talent"), Ted Ver Valen my sound technician who had to listen to all of my verbal chatter in between takes (all the things these guys must hear when you're miked up!), Keith Main for keeping me sane, Elizabeth Payne for all the encouragement hugs, Joon Hee Lim for her patience, Sally Wilson for being my very first fan, David Bromstad for teaching me how to use my new I-Phone, Cameraman Ian Levasseur for thinking of so many creative titles for our series including "The Plant Stroker", "The Savage Gardener", and others which must be censored to protect the innocent.
Also, without the critical help of Sarah Hayward, my assistant designer, Superscapes co-star, and partner in crime, I would have gone insane long ago. Sarah not only gave the show a beautiful feminine counterpoint, but also kept the train on the tracks behind the scenes as well as tediously morphing my sketches into beautifully executed drawings.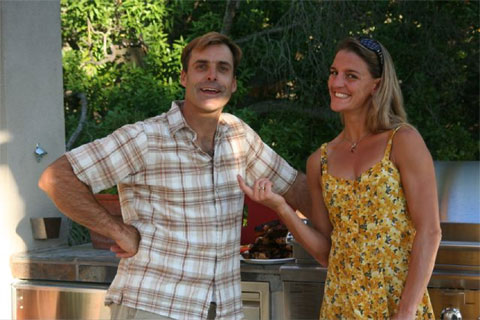 And of course, none of this would be possible without Kay Estey of the San Francsico Flower and Garden Show who allowed me to self shoot my pilot demo video "Livin' Cheap in Baja". Kay even stars in it! Edelman cut down my 21 hrs of raw footage of "Livin Cheap" to make a smoking 9 minute demo tape that they sent to HGTV to get the series approved. I do hope to eventually finish editing a full length "Livin' Cheap" and run it at a local film festival one of these days.
For more fun Superscapes info and crazy videos go to: