Our Design Philosophy
You Deserve Paradise, We Create Paradise
Golden Gate Palms prides itself on providing total site solutions in land planning and development. We believe that a landscape should not only be beautiful, but useful as well. Not only should it be a place for relaxation, recreation, and contemplative reflection, it must additionally solve everyday problems. An effective landscape must work for its users. This means critically addressing every square foot to achieve the greatest aesthetic and utilitarian effect possible. Of course, the solution will be different for each project. We study your lifestyle and unique needs to determine the best use of your outdoor space. As part of the process, we respect and celebrate your unique desires, existing architecture, and the natural features of the site and its surroundings to achieve a harmonious space that not only enhances your life but also maximizes your property value.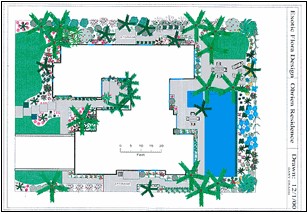 Golden Gate Palms offers a full array of design services ranging from economical, one hour consultation site visits, limited ongoing design assistance, to fully executed site plans and corresponding landscape installation. Since 1985, chief designer Gary Gragg has, designed and installed nearly every conceivable style of landscape imaginable. However, it is in the realm of subtropical garden design that sets us apart from all others. Gary has an intimate understanding of subtropical design style and the complexities of the San Francisco Bay Area climate. Thoroughly understanding and utilizing to best advantage this ultra complex macroclimate and the many unique microclimates of each individual site is critical to create a successful subtropical garden. No one can do this better than the Golden Gate Palms team.
Gary Gragg Bio

Yes it's true, Gary is a fun loving jokester, but he's also an extremely accomplished garden designer. Don't let the fact that he holds a degree with distinction from San Diego State University in International Relations of Latin America with a minor in Latin American Studies fool you. Although he found international relations interesting, ornamental horticulture was his obsession. In 1989, half way to graduation at SDSU and utilizing self taught skills, Gary fell into designing and installing gardens throughout San Diego County. Before he knew it, he was working nearly full time and loving it, while carrying a full load of courses. Time for a career change! SDSU lacked a landscape architecture or ornamental horticulture program. What to do? While all his friends took surfing and beach volleyball as electives, Gary took all of his remaining elective courses at a local community college in Landscape Architecture, Environmental Studies, Landscape Construction and Nursery Production and Management.
Upon graduation, he decided to return to the San Francisco Bay Area and bring back with him the bounty of palms and subtropical plants common in San Diego, but rare in Northern California. In 1991, he founded Exotic Flora Landscape & Nursery, Inc. through which he designed and installed hundreds of residential landscapes as well as several commercial projects and 7 major exhibits at the Oakland Zoo. In 2001, Gary was a founding member of Jurassic Palms Nursery in Albany with three other grower partners. To service his clients better, in 2003, Gary broke off from Jurassic Palms to open his independent Golden Gate Palms and Exotics Nursery in Richmond which he owns and operates to this day. Because of his efforts, his dream of bringing the tropics to the San Francisco Bay Area has been realized. Gary has been a critical and key catalyst in popularizing the palm tree and subtropical plant craze that has swept the region during the past 15 years. Many of the large palms that grace public buildings and avenues in the San Francisco region have been supplied and planted by Gary's firm.
In 2005, he set his sights further and decided he wanted to create a garden television show, having been frustrated at current programming for lack of depth and entertainment value. He bought a broadcast quality video camera and created a demo/pilot video of the process of creating a major exhibit at the San Francisco Flower and Garden Show. The Spring of 2006 exhibit was entitled "Livin' Cheap in Baja" and featured a story line about a Vietnam draft dodger who drives his VW Bus to the Pacific Coast of Baja California, sets up camp and never returns. Footage included on location shooting in various Baja California locales. The exhibit won the prestigious "Best of Show" Golden Gate Cup Award and the video was successful in convincing HGTV to create a new series entitled "Superscapes" which features Gary Gragg as Host/Designer/Builder. Beginning in June 2007, 13 gardens were designed and installed in just 5 months. After reviewing the first block of episodes, in February of 2008, the series was renewed by HGTV. By fall of 2008 the second series of 13 episodes was completed. The series debut is Sunday, February 1, 2009 at 9:30 am with a new episode airing every week thereafter at the same time for 26 weeks. Meanwhile, Gary continues to design and install gardens throughout the region.
Sarah Hayward Bio
Sarah is a great example of the statistical "fact" that the average person in the United States has 2-3 entirely different careers during the course of their lifetime. She began her professional life as a ballet dancer. From the age of three when she ran away from the baby sitter to the ballet school next door, she knew her first passion was dance. She went on to dance professionally in New York for 6 years, followed by another 6 years in Europe. She danced with a multitude of world renowned choreographers and saw unbelievably beautiful parts of the World during her dance career. Knowing that she wanted to resume her college studies after retiring from her dancing career, she was irresistibly drawn to the design of the landscape. Inspired by the great gardens of Europe, America and Asia, as well as the personal means of escape that the simplest city parks had provided for her all her life, she returned to school to pursue a degree in Landscape Architecture.
In Spring of 2006, she graduated magna cum laude from U.C. Davis with a B.S. in Landscape Architecture and received numerous awards, including the coveted "Departmental Commendation" "in recognition of outstanding undergraduate accomplishment in Landscape Architecture" and the Susan F. Regan Prize as one of the top three students in the College of Agriculture and Environmental Sciences. Most importantly, she found a field which inspired her passion as much as dance. While working at a Landscape Architecture firm she moonlighted with Gary Gragg , assisting Gary to design and build the San Francisco Flower and Garden Show "Livin' Cheap in Baja" exhibit. Winning "Best in Show" confirmed her desire to have a truly hands on approach to design. She is now a part of Gary's HGTV series "Superscapes" and spends the rest of her time designing (and teaching ballet). She loves the challenge and inspiration of creating a truly unique, living work of art with each landscape design and positively influencing the lives of her clients through her efforts.
Portfolio Under Construction