We are centrally located in Point Richmond, California and are highly visible from eastbound and westbound highway 580 just 2 miles east of the Richmond/San Rafael Bridge- LOOK FOR THE PALMS!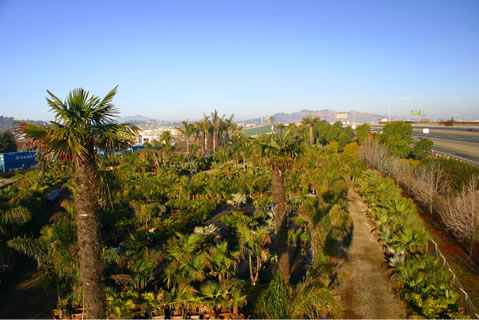 And if you find yourself riding, running, or rolling on the Bay Trail, stop by our nursery oasis for a breather and enjoy a relaxing walk through Northern California's largest tropical jungle of plant material while you ponder how we can bring paradise into your life. Again, LOOK FOR THE PALMS!
Hours
Monday - Saturday:
9am-3:30pm*
Sunday:
By Appointment Only. Call 925-325-2690 to make an appointment
*We are closed during all major holidays and times of rainy weather (if you see clouds in the sky, call ahead: 925-255-6009). We will additionally be closed from December 24 - January 2.
Acceptable Forms of Payment: All prices listed and quoted in our nursery are based on cash or cash equivalent payment (cash, money order, cashier's check, personal check, company check etc.). Additionally, we do accept Visa and MasterCard credit card payments with an additional 3% processing fee to cover the extra expense incurred by us to do so.